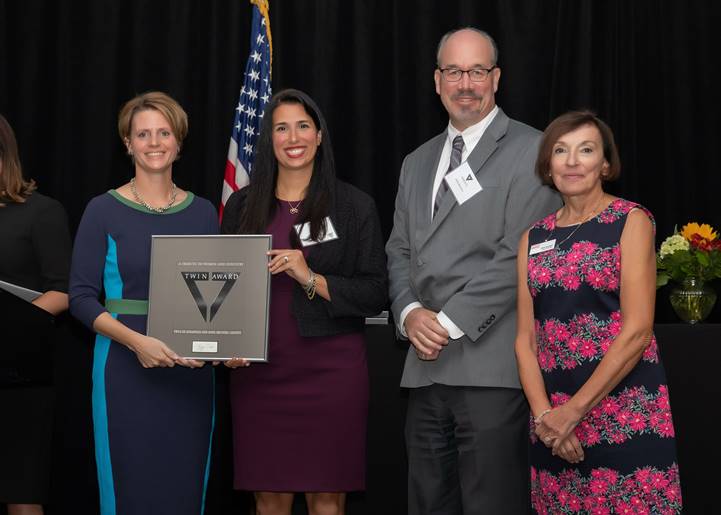 Margo Cook, Investment Advisor/Financial Planner, CFP, CAP, CFRE. at 1 North Wealth Services in Annapolis, was recently named a 2019 Women & Industry (TWIN) Award Honoree.
The TWIN Award is the only award of its kind in the county and recognizes the exceptional vision, contributions, and accomplishments of women in both the workplace and community. Honorees are nominated by members of the community and reviewed by a committee inclusive of YWCA Board members, community partners, and prior TWIN honorees. The YWCA has honored over 900 women since the program's inception in 1985. 
Margo Cook is an Investment Advisor, Financial Planner, CFP, CAP, CFRE for 1 North Wealth Services. She is the only professional in the country, to date, that has received three certifications. Earning the CFP signifies that Margo is an advisor providing the absolute best financial planning tools to her clients, including investment management.
As a Chartered Advisor in Philanthropy (CAP) and Certified Fund Raising Executive (CFRE), Ms. Cook has become a known expert in guiding high net worth philanthropists on the optimal charitable giving methods as a complement to her expertise in investments and financial planning. Her efforts have greatly benefitted the community as she has dedicated time to educating multiple local non-profit boards on how to maximize their service and work in the community.
Addressing issues such as addiction and access to mental healthcare are a focus for Margo. She is a volunteer educator at Pathways Drug & Alcohol Treatment Center where she provides education, tools and resources for patients to financially recover from their addiction.
Margo serves on the boards of St. Mary's of Annapolis (Alumni), Anne Arundel Women Giving Together, Start the Adventure in Reading (STAIR) Annapolis, and is one of the founding board members of Medicine with a Mission.
Margo additionally supports women going through divorce who are victims of domestic violence and cannot afford a financial advisor. She has coordinated three different United Way campaigns in both Maryland and Florida, is a founding member of Medicine with a Mission and has volunteered at Maryland's women's prison.
She also volunteers with many other organizations including Summit School, Anne Arundel Medical Center, The Betty Effect, Annapolis Opera Company and the Annapolis Symphony Orchestra.
About 1 North Wealth Services
1 North Wealth Services is a fee-only financial management and advisory firm providing customized investment management and financial plans for clients. The firm works closely with each individual and family to ensure that their investments match their goals through active management and constant communication. The main office is located in Annapolis, MD with satellite services in Centreville, MD. For more information, call Margo Cook at 410.975.0099 or visit 91t.9a0.myftpupload.com.
About YWCA of Annapolis & Anne Arundel County
A private, nonprofit 501(c) (3) organization serving individuals affected by intimate partner violence, the YWCA provides services and programs focused on crisis intervention for victims of domestic violence including the domestic violence safe house shelter, legal representation, counseling services, 24-hour hotlines, hospital accompaniment, and abuser intervention courses. It is through the generous financial support of individuals, organizations and government grants that the YWCA is able to fulfill its mission to promote peace, justice, freedom, and dignity. For more information, please visit www.annapolisywca.org.