The function of the market is a rather simple concept. If the market goes up, there are more buyers than sellers. If the market goes down, there are more sellers than buyers. When there are no buyers or sellers, it is called a market consolidation, or flat market (see chart below). We like to think of that as a market pushing up, but then pulling it back.

There are many reasons as to why the stock market moves, but it is important to note that the market is forward-looking or a "leading indicator" of the underlying economic condition of companies. While no one can predict the future, based on historical results, current and pending tax laws and government policies, companies can estimate what their future performance and business expectations will be.
Currently, massive government intervention through stimulus programs and tax reductions plus the Federal Reserve holding interest rates artificially low have fueled the market rebound. Another factor is the increase in people receiving the COVID vaccine. The vaccine has allowed the economy to reopen which means that consumers are spending, people are returning to work and company inventories are increasing.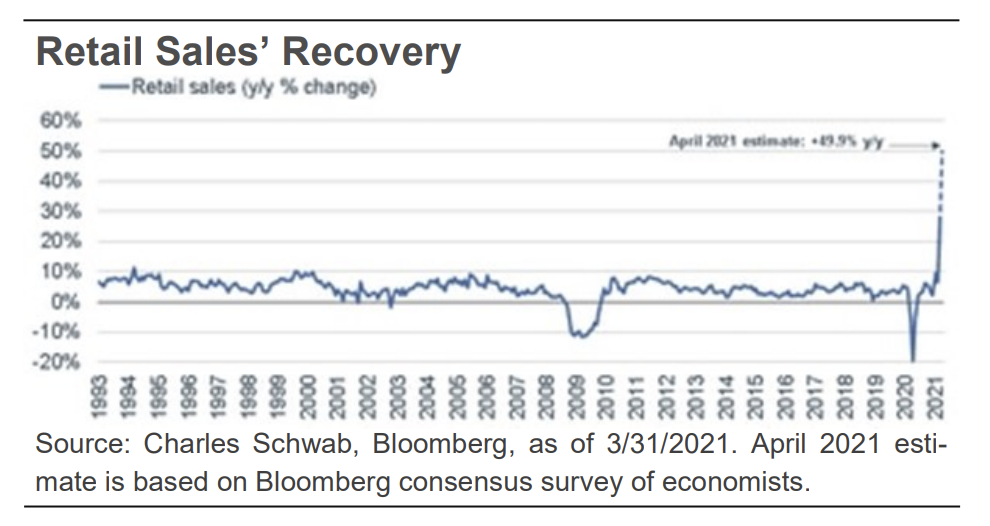 As a result of improved economic data, inflation is creeping north and there are many who think that there likely will be a monetary policy change by the Federal Reserve. This change could be a rise in short-term interest rates and/or the discontinuance of treasury bond purchases by the Fed. However, policy makers have made it very clear there will be plenty of notice before any changes will occur. This allows markets to have more certainty in what and when changes can be expected allowing the market to reduce unnecessary volatility.
In an environment of rising interest rates and inflation, the adage is "he/she who loses the least, wins." We are anticipating the rise in rates and inflation throughout this remainder of 2021 and have been reallocating to benefit your portfolio during inflationary periods. Some of the changes that we have made:
New investments such as small-cap companies and industrial, transportation, financial, and consumer discretionary sectors. Also added convertible, fallen angels, and emerging market bonds, short-term TIPS and a position that hedges 30-year TIPS.
Increases have been made to investments in sectors such as infrastructure and global agriculture. The positions in preferred securities and emerging markets have also increased.
Reductions have been made in investments in some segments of technology, healthcare, as well as utilities and consumer staples. The mortgage-backed bond and gold positions have been decreased.
Eliminated intermediate and long-term treasuries.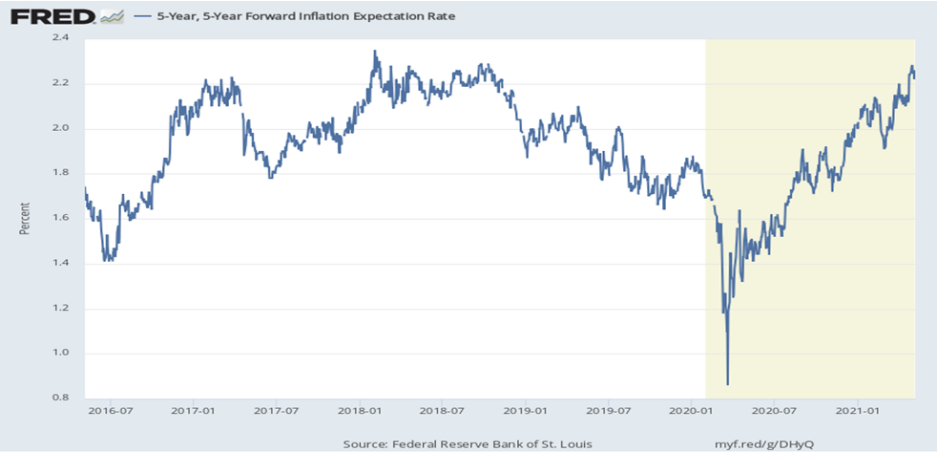 While no one can predict the future, it is likely that markets may need to consolidate and process their recent move, which means, as we stated earlier, we may possibly have a flat market in the second half of 2021. Our aim is to build your portfolio based on your personal information and risk tolerance to help you to achieve your financial goals. If we think that a market correction is approaching, we will invest your portfolio accordingly, however, we will not jump out of the market. Getting out of the market is easy but trying to time the market to get back in is impossible. Remember, in 2020, a severe downturn quickly became a major buying opportunity. Simply rebalancing and reallocating the portfolio reduces your exposure to market volatility through portfolio diversification.
Our investment suitability stating your current investment objective was sent out on May 3rd . If you have any questions regarding your current investments or any life changes that may impact how you are currently invested, please do not hesitate to call our office to schedule a meeting.